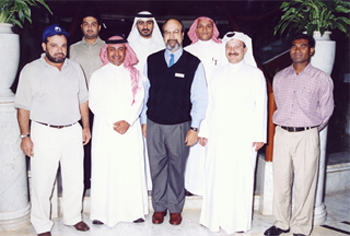 Our augmented introductory course in management skills for maintenance supervisors, planners, engineers and managers, in factory, process plants, oil fields, mines, buildings, and fleet maintenance and the people in training for these positions, covers all the topics offered in our 2-day Basic Course but in greater detail, adding more case studies and discussion of participants' experience. The three day class also adds a few new topics
Supervision is a leveraged activity. When we improve the supervisor we improve the productivity of the whole work group. This course teaches the science of supervision including basic management, necessary people skills, and the elements of technical issues. It encourages people to develop their inner supervisor through discussion, examples, case studies, light homework and experiences.
These carefully chosen topics will increase the effectiveness of your managers and supervisors:
Setting up work schedules that add to the productive day, reduce confusion and invigorate your work force.

How to be a better supervisor: three basic rules of managing employees for top performance

Assessing and working with the strengths and mitigating the weaknesses of your crew.

Effective techniques for supervising (and working with) difficult people.

Identify hidden talents within your crew.

Know what to do when morale suffers.

Increase leadership productivity through time management strategies.

Successfully supervising friends and older employees.

Adapting preventive maintenance strategies to your environment and how to sell it

Choosing the right predictive tools for effective deterioration detection.

Proven methods for reducing overall maintenance costs via effective training and supervision

Helping employees make the change from technician to supervisor

Tips and tricks for better and more effective reporting to senior management
Program includes a 100+ page workbook to help each attendee take notes and develop their own action plan for moving forward.
Course Agenda - Day 1
---
Attributes of a great maintenance supervisor:
What is the goal of the class- Increased effectiveness as a supervisor

Effectiveness as a supervisor requires a balance of good technical, management and people skills.
Action Master System of training: Using the 3-part Action Master List techniques are introduced to make any supervisor a better student in any training they take.
How to use the Action Master List

How to write a seminar report

Importance of getting into action
Basic motivation (exercise):
What motivates maintenance workers, and how do we use that understanding for good results?

Lists created of how to motivate workers.

Case histories and discussion help participants understand motivation from their own real life examples.
Leadership evaluation clinic (exercise): Each supervisor or manager brings something unique to their situation.
We guide participants through a self-assessment process to understand their supervisory strengths and where they need development.

Identify where they have weaknesses that could be exploited by subordinates or peers.

Incorporate results into each participant's action plan.
Maintenance planning (Case study): This course features an overview of the basic maintenance planning process and outcomes.
Why plan maintenance jobs?

How to plan maintenance jobs

How to estimate

Actual planning exercise introduced.

Short and long-term techniques are covered;

Matching strategy to technique; overcoming problems in implementation.
Maintenance scheduling: This course features an overview of the basic maintenance scheduling process.
Basics: How to schedule a maintenance shop

Results- more work complete with less effort.

Why scheduling is where the return on investment is from planning and scheduling.
Course Agenda - Day 2
---
Role Models (exercise and homework): A look at the function of role models, positive and negative, and a discussion of how to put role modeling principals into good use in the workforce.
People's ideas about supervision do not come from a vacuum- Where do they come from?

What are the attributes you took on

What is the impact of negative role models

You are a role model now.
Decision making, delegation and the One Minute Manager (exercise): The best management techniques and tips adapted for the maintenance environment. Exercise in effective decision making
Decision making model for quick decisions

Decision making for longer term decisions when you have some time

How to delegate

Overcoming barriers to delegation
The complete PM (Preventive Maintenance) cycle (several short exercises): A complete PM cycle is a highly efficient tool for organizing all maintenance activities.
Procedures and checklist are included to install new PM system or revise existing one.

Elements of a successful PM system

Who makes the best PM person

How to insure the PMs are done as designed

Information on the benefits of PM.
Short course in computerization (CMMS) (exercise): Many organizations have wrestled with computerized maintenance systems; few are satisfied with the results.
How a good CMMS works

Improving the work order system

Training curriculum for work order system

Tips and tricks for getting greater returns from existing systems.
Coping with difficult people (exercise): Successful interactions with difficult people and situations are a key task for supervisors.
Participants are coached through a process to maximize the probability that the outcome will be positive.

Participants identify their hot buttons (things that bother them)

5 steps to managingg difficult people
This course continues with MSMS II Advanced Management Skills for Maintenance Supervisors and Managers (3 day version). MMSM 1 AND MSMS 2 may be offered together, in one week, or continued up to several months apart, allowing time for attendees to put their new basic skills into practice. Alternatively, either course could be offered on a stand-alone basis, depending on the organization's needs.